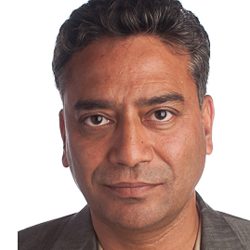 Rajendra Singh Adhikari
Professore associato
ING-IND/11 - Fisica tecnica ambientale

Laureato in Fisica, Dottorato di Ricerca (PhD) in Tecnologie Avanzate per lo Sfruttamento dell'Energia Solare e Master in Management ed Economia dell'Energia e dell'Ambiente.
I maggiori campi di ricerca sono quelli dell'energia rinnovabile, dell'efficienza energetica negli edifici e del risparmio energetico.
Ha partecipato a numerosi progetti di ricerca nazionali e internazionali tra cui anche attività della IEA (SHC-Task 25, Task 38 and PVPS-Task 19).
È autore e coautore di oltre 90 pubblicazioni su riviste scientifiche internazionali e presso convegni e seminari nazionali ed internazionali.
È stato membro dell'Editorial Board della rivista ISRN Renewable Energy (International Scholarly Research Network Series). E' membro dell'Editorial Board delle riviste Energy and Power (Scientific and Academic Publishing) e Current Advances in Energy Research (American V-King Scientific Publishing).
È stato membro del Comitato Scientifico di conferenze internazionali (PLEA 2011, PLEA 2012, PLEA 2015, IEECB'14, IEECB'16).
È membro (Life member) dell'ICTP-India Chapter (Centro Internazionale di Fisica Teorica, Trieste, Italia).