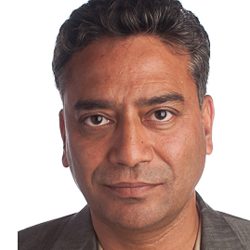 Rajendra Singh Adhikari

ING-IND/11 - Building physics and building energy systems

Graduated in Physics, Ph.D. in Advanced Technologies for Solar Energy Utilization and Master in Energy and Environmental Economics and Management.
His research work is mainly focused on renewable energy, energy efficient buildings and energy conservation.
He has been participating in various National and International research projects including IEA activities (SHC-Task 25, Task 38 and PVPS-Task 19).
He is the author and co-author of more than 90 publications in various International/National Journals of repute and conferences and seminars.
He has been the member of the editorial board of the international journal ISRN Renewable Energy (The International Scholarly Research Network Publishing). Currently he is the member of the editorial board of Energy and Power (Scientific & Academic Publishing) and Current Advances in Energy Research (American V-King Scientific Publishing).
He has been the member of the Technical Committee of various International Conferences (PLEA 2011, PLEA 2012, PLEA 2015, IEECB'14, IEECB'16).
He is a Life member of ICTP-India Chapter (International Centre for Theoretical Physics, Trieste, Italy).