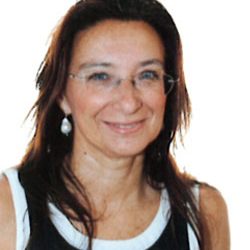 Raffaella Brumana
Professore ordinario
ICAR/06 - Topografia e cartografia

Maturità Classica. Laureata con lode presso la Facoltà di Architettura al Politecnico di Milano. Dottore di Ricerca in Scienze Geodetiche e Topografiche. Ricercatore dal 1995, e Professore Associato (SSD ICAR/06) dal 1/09/2001, presso 1a Facoltà di Architettura Leonardo del Politecnico di Milano.
Docente di Fotogrammetria, di Cartografia Tematica e Automatica/Gis presso la Facoltà di Architettura. Dal gennaio 2009 afferisce al Dipartimento BEST – Building and Environment Sciences and Technology (Dip. Scienza e Tecnologie dell'Ambiente Costruito)  all'interno del Gruppo di ricerca  SITE –  Surveying Information Technologies for Environmental Heritage (SSD ICAR/06). Docente di Fotogrammetria presso la Scuola di Specializzazione in Restauro dei Monumenti dal 1997. Membro del consiglio scientifico del Dottorato di Ricerca in Ingegneria Ambientale e delle Infrastrutture (docente di Applicazioni GIS). Membro ICOMOS (International Council on Monuments and Sites). Membro del Discussion Group e del Scientific Board dell'UNESCO-OPEN FORUM-Mesopotam/Rusanj Saranda (Albania), responsabile scientifico per le campagne di rilievo integrate da laser scanner e tecniche fotogrammetriche UAV (marzo '09), pianificate per il quadriennio 2006-2010 (capo missione, Prof. Gianclaudio Macchiarella-Università Ca' Foscari).
È autore di più di 70 pubblicazioni scientifiche nel campo della fotogrammetria (modelli e ortofoto 3-D con sviluppo di algoritmi e sw proprietari), cartografia, WEBGIS3D, e aspetti legati alla ricerca in ambito ICT (Information Comunication Technology) per lo sviluppo di Musei virtuali e la gestione dei dati da remoto, con particolare applicazione al Patrimonio Culturale in senso esteso (cfr. Codice dei beni culturali e del paesaggio – Dlgs 42/2004), in particolare ai Beni architettonici, ambientali, e artistici.