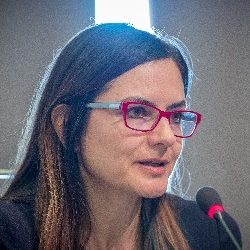 Paola Caputo
Professore associato
ING-IND/11 - Fisica tecnica ambientale

Dopo la laurea in Ingegneria Ambientale e il Dottorato in di ricerca in Energetica, entra in ruolo come Ricercatore nel 2002 al Politecnico di Milano, dove, nel settembre 2017 diventa Professore Associato.
Principali temi di ricerca: biomassa e biocombustibili, efficienza energetica, integrazione di fonti rinnovabili in edilizia, applicazione di tecnologie innovative per il risparmio energetico e la generazione distribuita di energia, sviluppo urbano energeticamente sostenibile, metabolismo urbano, analisi dei flussi di energia e di materia per la produzione di cibo.
Ha collaborato con studi professionali, enti di ricerca e università straniere tra cui l'Accademia di Architettura di Mendrisio e la SUPSI di Lugano. 
Ha partecipato a numerosi progetti di ricerca nazionali e internazionali pubblicandone i risultati scientifici su riviste internazionali, libri e atti di convegno.
È stata membro dell'Annex 49 ECBCS Low Exergy Systems for High-Performance Buildings and Communities e dell'Annex 64  EBC LowEx Communities – Optimised Performance of Energy Supply Systems with Exergy Principles.
È membro del comitato tecnico-scientifico di Fiper, Federazione Italiana Produttori di Energia da fonti Rinnovabili e di altri tavoli di lavoro in tema di economia circolare e food policy.