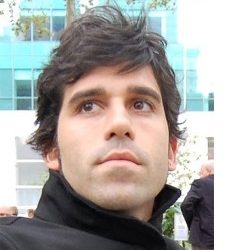 Graziano Salvalai
Professore associato
ICAR/10 - Architettura tecnica

Laureato in ingegnere Edile-Architettura nel 2006 presso il Politecnico di Milano. Ottiene il titolo di dottore di ricerca nel 2010 in Ingegneria dei Sistemi Edilizi. È stato visiting scientist presso il Fraunhofer Institute for Solar Energy System (ISE) di Friburgo, Germania e presso il Power System Design and Studies Group del National Renewable Energy Laboratory (NREL) Colorado, USA. È stato ospite presso la Colorado University at Boulder – Colorado, USA.
Attualmente è professore associato presso il Politecnico di Milano – Dipartimento ABC (Architecture Built environment and Construction engineering). È titolare dell'insegnamento Energy efficient buildings e Tecnologia di componenti e sistemi edilizi e impiantistici. In ambito internazionale, ha partecipato a diversi progetti comunitari tra i quali ThermCo (Low Energy Cooling and Thermal Comfort – IEE) e EASEE (Envelope Approach to improve Sustainability and Energy efficiency in Existing multi-storey multi-owner residential buildings – FP7).
É resposabile scientifico per il Politecenico di Milano di due progetti H2020: ALDREN -ALliance for Deep RENovation in buildings ed EENVEST – Risck reduction for Building Energy Efficiency investments. È responsabile dell'unità di ricerca del Politecnico di Milano per il progetto BE S2ECURe – (make) Built Environment Safer in Slow and Emergency Conditions through behavioUral assessed/designed Resilient solutions finanziato dal MIUR. 
Fa parte del gruppo di ricerca del Laboratorio RE3_Lab – Laboratorio di Recupero Edilizio ed Efficienza Energetica del Polo Territoriale di Lecco del Politecnico di Milano. È responsabile scientifico di numerose consulenze per la promozione dell'efficienza energetica in area alpina e per lo studio di sistemi tecnologici d'involucro innovativi. L'attività di ricerca è supportata dalla collaborazione a progetti sperimentali reali. È autore e revisore di numerosi articoli su riviste peer-review internazionali.