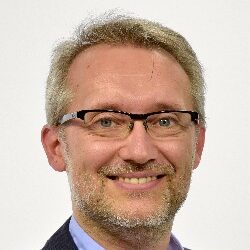 Gabriele Masera
Professore ordinario
ICAR/11 - Produzione edilizia

Laureato in Ingegneria Edile nel 1999 presso il Politecnico di Milano, ottiene il titolo di Dottore di Ricerca nel 2003 con una tesi sul tema delle residenze sostenibili a basso consumo energetico, delle relative tecniche costruttive e dei metodi per la valutazione della sostenibilità.
È Professore Ordinario presso il Politecnico di Milano (Dipartimento di Architettura, Ingegneria delle Costruzioni e Ambiente Costruito – ABC), dove opera nel campo delle tecnologie costruttive innovative per edifici sostenibili e ad alta efficienza energetica. In questo settore, oltre a insegnare, ha partecipato a diverse ricerche, anche di interesse nazionale, e a quattro progetti di ricerca europei: uno sull'utilizzo di materiali a cambiamento di fase (PCM) negli edifici (C-TIDE – FP5), uno sulla definizione delle caratteristiche degli edifici sostenibili nel 2030 (Smart-ECO – FP6), uno su soluzioni tecnologiche per il retrofit energetico degli edifici residenziali (EASEE – FP7) e uno sull'integrazione di pannelli isolanti prefabbricati in un approccio BIM per il retrofit energetico (BIM4EEB – Horizon 2020).
È titolare degli insegnamenti "Sustainable Building Technologies" (Corso di Laurea Magistrale in Building and Architectural Engineering) e "Laboratorio di Architettura Tecnica" (Corso di Laurea Quinquennale in Ingegneria Edile-Architettura) presso il Polo Territoriale di Lecco del Politecnico di Milano.
È stato Coordinatore del Corso di Studi in Building and Architectural Engineering (2016-2019) ed è Preside Vicario della Scuola di Architettura Urbanistica Ingegneria delle Costruzioni.