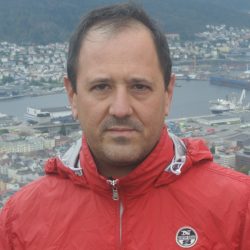 Marco Scaioni
Professore ordinario
ICAR/06 - Topografia e cartografia

Dott. Ing. Marco Scaioni, nato nel 1969. È Professore Ordinario presso il Politecnico di Milano, Dipartimento di Architettura, dell'Ambiente Costruito e dell'Ingegneria delle Costruzioni (ABC). In precedenza ha ricoperto la posizione di Professore Ordinario press oil College of Surveying and Geo-Informaticsdi Tongji University a Shanghai, Cina (2011-2014).
I suoi principali interessi scientifici sono l'applicazione della fotogrammetria digitale e del laser a scansione terrestre per il monitoraggio delle deformazioni, la gestione del rischio legato al dissesto idrogeologico e al climate change, la ricostruzione 3D e la modellazione degli edifici con tecniche di intelligenza artificiale, l'analisi dell'ambiente urbano e della sua interazione con le variabili ambientali e climatiche, lo sviluppo di banche dati cartografiche e l'integrazione GIS/BIM.
Ha partecipato a numerosi progetti finanziati da MIUR, ASI, MOST (Ministry of Science and Technology of China), Comunità Europea, e da diverse Pubbliche Amministrazioni italiane.
È Chairman del WG III/5 ('Information Extraction from LiDAR Intensity Data') dell'Int. Society of Photogrammetry and Remote Sensing (ISPRS) nel periodo 2016-2021.
È Associate Editor dell'ISPRSJournal of Photogrammetry and Remote Sensing (Elsevier/ISPRS) e di Applied Geomatics (Springer/Società Italiana di Fotogrammetria e Topografia). E' membro dell'Advisory Editorial Board di Remote Sensing (MDPI), Applied Sciences (MDPI) ed Infrastructures (MDPI).
Ha pubblicato oltre 300 articoli scientifici, ivi compresi 64 articoli su riviste indicizzate in Web of Science (112 se si considerano anche gli atti di convegno indicizzati SCI – H-index: 20), e 170 articoli indicizzati in SCOPUS (H-index: 27). Ha pubblicato un libro con Springer nel 2015 ("Modern Technologies for Landslide Monitoring and Prediction"). Ha servito da Guest Editor in 8 edizioni speciali pubblicate da riviste internazionali (Remote Sensing, Earth Science Informatics, European Journal of Remote Sensing, Applied Geomatics, Sensors, Land).
Il curriculum vitae completo è disponibile nella pagina web personale di ateneo.