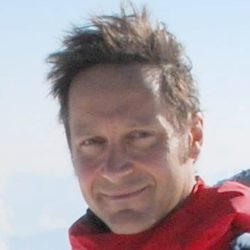 Francesco Calvetti
Professore ordinario
ICAR/07 - Geotecnica

Laureato in Ingegneria Civile nel 1992 presso il Politecnico di Milano, ottiene il titolo di Dottore di Ricerca in Ingegneria Geotecnica nel 1998 con una tesi sulla micromeccanica dei materiali granulari.
Professore associato di Geotecnica presso il Politecnico di Milano dal 2004, attualmente insegna Geotecnica (Ingegneria Edile-Architettura) e Soil-Structure Interaction (Laurea Magistrale in Civil Engineering for Risk Mitigation). In Ateneo copre il ruolo di Delegato del Rettore per le Attività Sportive.
È membro del Comitato Tecnico TC 105 (Geo-Mechanics from Micro to Macro) dell'International Society of Soil Mechanics and Geotechnical Engineering.
Principali interessi di ricerca:
– Progettazione di strutture di difesa per frane e caduta massi. Studio sperimentale e simulazione numerica dell'impatto di blocchi di roccia su strutture di protezione. Progettazione di gallerie paramassi. Modellazione di frane, debris-flows e caduta massi (innesco, propagazione e impatto). Valutazione forza d'impatto esercitata da frane di flusso sulle barriere, e progettazione di strutture di protezione contro frane di flusso.
– Applicazione del Metodo degli Elementi Distinti a problemi di Geotecnica, Meccanica delle Rocce e Ingegneria Strutturale. Modellazione dell'interazione terreno-struttura: interazione frane-condotte interrate, spinte delle terre su opera di sostegno, prove penetrometriche, impatti di massi su strati granulari, interazione frane di flusso/strutture di protezione, comportamento statico e dinamico (sismico) di ponti in pietra e strutture a blocchi, modellazione delle azioni nei silos. Subsidenza e collassi indotti dall'alterazione di rocce tenere.
– Studio micromeccanico del comportamento dei materiali granulari. Riproduzione di prove di laboratorio su sabie e rocce tenere, correlazioni micro-macro, calibrazione dei parametri micromeccanici, modelli analogici 2D. Comportamento incrementale e non reversibilità, meccanismi locali di deformazione plastica. Studio di anisotropia indotta, localizzazione della deformazione e liquefazione.