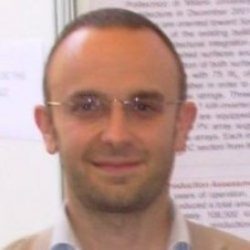 Claudio Del Pero
Professore associato
ING-IND/11 - Fisica tecnica ambientale

Laureato con lode in Ingegneria per l'ambiente ed il territorio, ha ottenuto il dottorato di ricerca in Tecnologia e Progetto per l'Ambiente costruito. A partire dal 2006, è stato attivamente impegnato in diverse attività di ricerca e di consulenza relative all'efficienza energetica in edilizia ed allo sfruttamento delle fonti energetiche rinnovabili, con particolare riferimento alla tecnologia solare fotovoltaica ed alla generazione energetica distribuita.
Nel corso degli anni è stato coinvolto in diversi progetti di ricerca nazionali ed internazionali relativi allo sfruttamento delle fonti rinnovabili ed all'efficienza energetica negli usi finali. Ha inoltre partecipato a programmi dell'International Energy Agency, quali l'IEA-PVPS Task 10 (Urban-Scale Photovoltaic Applications) e l'IEA-ECES Annex 31 (Energy storage with Net Zero Energy Buildings and Districts: Optimization and Automation).
È inoltre il coordinatore tecnico della PV Test Facility presso il Politecnico di Milano, dove una sezione specifica è dedicata alla sperimentazione di componenti fotovoltaici ed ibridi.
È infine co-autore di oltre 60 pubblicazioni scientifiche.