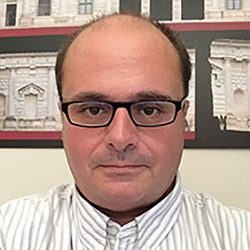 Luigi Fregonese

ICAR/06 - Surveying and mapping

Professor Luigi Fregonese was born in Treviso on January 23, 1968. Fregonese then earned a degree in Architecture at the IUAV (University Institute of Architecture in Venice) on 1994 graduating magna cum laude. He passed the professional licensing exam in February 1995. He is registered in the Roll of Architects of the Province of Venice. December 1999. Earned the title of Doctor of Research in Geodetic and Topographic Sciences, doctorate (XII cycle) with office at the Politecnico of Milan, DIIAR. January 2, 2005: Fregonese was awarded the competitive position of researcher under an open-ended contract with the DIIAR Politecnico of Milan – Faculty of Architecture and Society. November, 2015 – Associate professor SSD Icar/06 – Polytechnic of Milan – Department of Architecture, Built environment and Construction engineering – Mantua Campus
He is a professor at the School of Architecture Urban Planning Construction Engineering of the Polytechnic of Milan – Mantua Campus: Course of the representation, Survey of the architecture in historic building conservation laboratory, Survey advanced techniques in the final workshop old and new.
Since 1993, Fregonese has focused on topographic and photogrammetric surveys, structural monitoring, with a special interest since 2001 in terrestrial laser scanner acquisition.
Professor Fregonese has authored of over 100 scientific publication.