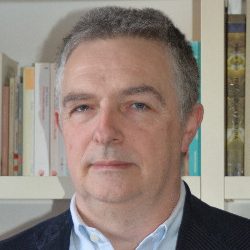 Andrea Campioli

ICAR/12 - Architectural technology

Andrea Campioli (1962), architect, Ph. D. in Architectural Technology, since 2005 full professor of Architectural Technology at the Politecnico di Milano where he carries out research activity in the Department of Architecture, Built Environment and Construction Engineering (ABC) and he teaches in the bachelor course in "Architectural design"" and in the master course in "Architecture" at the school of Architecture Urban Planning Construction Engineering.
In the same university he has been the board president of the bachelor course in Sciences of Architecture from 2007 to 2010. He's member of the University Assessment Commission since 2011.
He is board member of the Ph. D. programmmes "Tecnology and design for the environmental quality at urban and building scale (from 16° to 19° cycle "Technology and Design for Environment and Building" (from 20° to 28° cycle) and "Architecture, built environment and construction engineering (since 29°).
The research actvity is focused on the effects of technic and technological innovations on design culture both in architeture and in industrial design, with particular attention towards environmental sustainability of buildings and components in the whole life cycle. He coordinated and partecipated to national and international research programmes focused on technical innovation in construction sector, change management in design and building process, design by up-to date industrial systems, energy and environmental efficiency of buildings, life cycle assessment of building components.
He writes books and papers on reviews and he partecipate at international and national seminars and congresses about the topics of his reserch work. From 2010 to 2014 he's on the editors board of the review "Techne. Journal of Technology for Architecture and Environment". He's editor of the section "Details" of the review "Costruire in laterizio" since 1991 and of the section "Architecture" of the review "Costruzioni metalliche" since 1998.