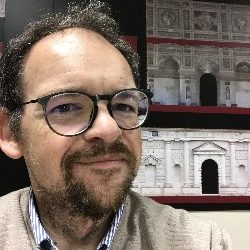 Andrea Adami
Associate professor
ICAR/06 - Surveying and mapping

He graduated in Architecture at the University Iuav of Venice with a thesis on urban restoration and in 2009 he was awarded with honour with the title of PhD in Geodesy and Geomatics at the Politecnico di Milano with a thesis about cartographic globes.
From 2003 to 2012 he collaborated with the Photogrammetry Laboratory of the University Iuav of Venice in different activities and research projects on the topics of architectural surveying, photogrammetry and laser scanning. He also has followed the data processing stage of topographic data and the representation of architecture, archaeology and landscape through drawings, 3D models, rendering and digital animations.
In 2012 he moved to the VHLab (Virtual Heritage Laboratory) of CNR ITABC to deepen the theme of 3D modelling in the field of virtual reality and museum applications. He worked especially on Etruscan and Roman architectures and findings.
He had some research grants on photogrammetry, cartography and cultural heritage survey.
In 2015 the project "BIM for Cultural Heritage: a geomatic question too" was selected and funded by SIR national projects. Since then he works as a temporary researcher at the Politecnico di Milano.
He has teached as adjunct professor at Iuav University (2005-2011) and at Politecnico di Milano (2010-present day) and in several summer schools.
He participates in several national and international conferences as a relator with papers on issues of survey, architectural representation, enhancement of historical and cultural heritage and historical maps.