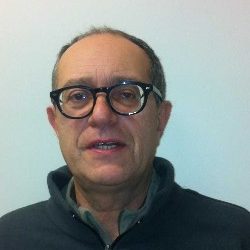 Claudio Bernuzzi

ICAR/09 - Structural engineering

Claudio Bernuzzi took its degree in Civil Engineering at the University of Pavia on 1986. He was assistant professor in the period 1989-1998 at the Faculty of Civil Engineering of the University of Trento than became associate professor in 1998 at the Politecnico di Milano and full professor in 2018.
Its scientific researches are focused on steel and steel-concrete composite structures: activities have been mainly focused on:
· beam-to-column joints for steel and steel-concrete composite frames:
behavior and modelling of joints under monotonic as well as cyclic loading;
· numerical analysis of semi-continuous frames;
· low cycle fatigue for steel components;
· experimental and theoretical analysis of steel storage rack systems;
At the University of Trento, since 1992 he was involved in experimental activity on steel pallet racks, in particular regarding the column and the beam-to-column joint tests. At the Politecnico di Milano, since 2006 he studied the behavior of systems made by cold-formed members, as it appears by the last publications related to this topic. Cold-formed cross-sections are currently adopted for steel pallet racks, which are complex structures both for geometry and dimension. Furthermore, the cross-section of the columns (uprights) has generally a sole axis of symmetry and the design provisions make reference to the rules proposed for by-symmetric cross-section members. In order to deeply investigate this topic, it has been at first necessary to develop in co-operation with prof. Armando Gobetti (University of Pavia), a refined finite element (FE) beam formulation able to capture torsional warping, remarkably governing the response of open cross-section members. The developed FE formulation is characterized by 13 parameters, in order to consider the non-coincidence of the centroid and the shear-center and the Wagner constants. All these feature have been implemented in an open-source code for academic use, deriving from the original NONSAP, written in Fortran language. Extensive parametric analyses have then been carried out, and still are under development. In particular, it is worth mentioning that important research issues have been investigated, such as 1) the influence of torsion warping on the response of steel frame systems with mono-symmetric cross-section members and 2) the actual degree of the design approach currently used for static and seismic design.
As to the teaching activity, at first, he taught in the University of Trento, then, from 1998, in the Politecnico di Milano. At the University of Trento, since 1987, he taught the courses of Structural Analysis and Design 2 and Theory of Structures. At the Politecnico di Milano he taught in the years several courses at the School of Architecture: Laboratory of Architecture Building, Theory and Project of Building and Structures 1 and 2, Structural Analysis and Design and Design of Structures. Then, at the School of Civil Engineering, he taught Steel Structures for Mechanics Design and Design of Steel Structures. Nowadays he teaches Steel Structures in English Language.
He has been tutor and supervisor of several theses discussed at the School of Architecture and at the School of Civil Engineering. He conducted formation activity in the Pesenti Brothers Master School of the Politecnico di Milano and updating activities with seminars for practitioners, technicians and civil engineers.